It is very important to take great care of your teeth while your braces are on. During treatment, be sure that you are brushing at least 3x a day. The better care you take of your teeth, the less time you'll have to wear your braces because clean teeth move faster. To be sure you are getting the job done correctly, Dr. Becker and the clinic staff will be grading your brushing Good, Fair, or Poor at each appointment.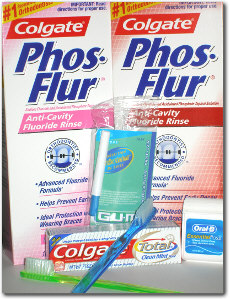 Good: teeth are clean-there is no food or plaque present and gums are pink and healthy.
Fair: there are a couple of spots that are being missed. If this is the case, we will show you where you are missing so you can do a better job the next time.
Poor: there are quite a few places that are being missed and gums are red, puffy and unhealthy. Our office takes several steps in helping you get brushing back up to the level it needs to be.
If brushing is poor the first time, you will automatically get "gray reminder ties" (no color ties get to be chosen). Also, a fluoride rinse will be given to be used nightly.
Two poors and wires may need to be removed. This gives you the ability to get in and really clean the teeth but no wires means no movement and possibly longer treatment time.
Three poors and we discuss the possibility of removing the braces and ending treatment early. Even though this may seem drastic, we feel it is the appropriate action to take to help prevent any permanent damage to the teeth. Hopefully, these measures will not need to be taken.