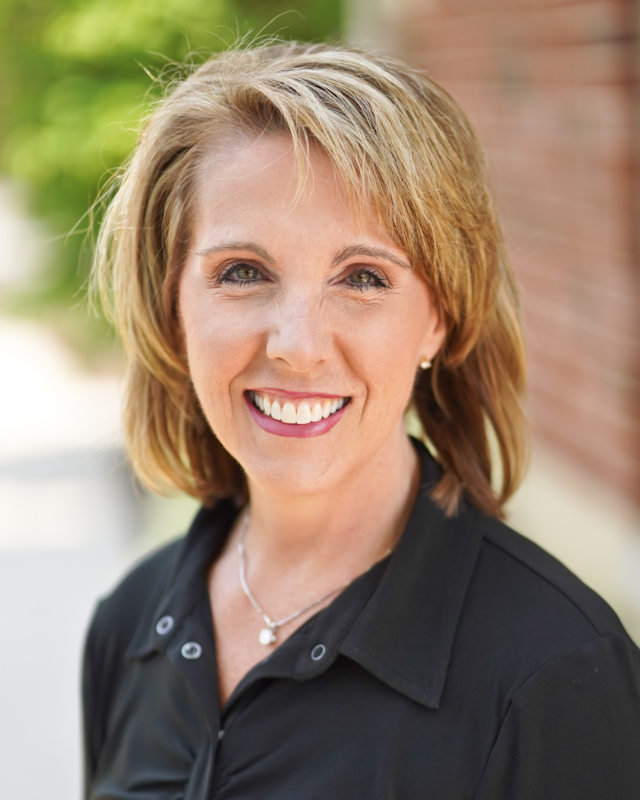 Dr. Angela Becker
Dr. Angela Becker has always been a Hoosier at heart having been born and raised in Kendallville, IN. She knew she wanted to create beautiful smiles for others after going through her own orthodontic treatment as a teenager. So after graduation from East Noble High School, she went on to earn her undergraduate degree from Purdue University. From there Dr. Becker entered the IU School of Dentistry and graduated Phi Beta Kappa (first in her class). She was president of her class in orthodontic residency at IU and graduated with a masters in 1996. As for her formal career, Dr. Angela Becker is proud to say that she was the first female orthodontic specialist to start practicing in the Fort Wayne and Huntington area. Upon graduating, she joined forces with Dr. Jim Williams who was an amazing colleague and partner until his retirement. As a business owner and working mother, Dr. Becker also takes time to contribute to many dental organizations. She is an active member of the Isaac Knapp District Dental Society (and past president), American Dental Association and American Association of Orthodontists. Besides participating in numerous continuing education courses, she is also a member of a local orthodontic study group. On a personal note, Dr. Becker and her husband Kent have a beautiful daughter Samantha. Their Schnorkie Lucy helps to round out their happy family.
Dr. Anna Betlej
Dr. Anna Betlej was born and raised in Poland where she attended Wroclaw Medical University School of Dentistry. She completed her orthodontic training at the University of Siena in Italy, graduating in 2016. A fellowship program at the University of Connecticut brought her to the USA. Finishing the fellowship program in 2018, she transitioned to the University of Alabama at Birmingham to complete her orthodontic residency and received her master's degree in 2021. After completing her extensive education, Dr. Betlej moved to Fort Wayne, and is honored to share her knowledge with patients at Angela Becker Orthodontics. Outside of her professional endeavors, Dr. Betlej enjoys quality time with her husband, Rajan. She leads an active lifestyle and has a passion for biking and hiking. Dr. Betlej is also an avid traveller and enjoys exploring different cultures and cuisines.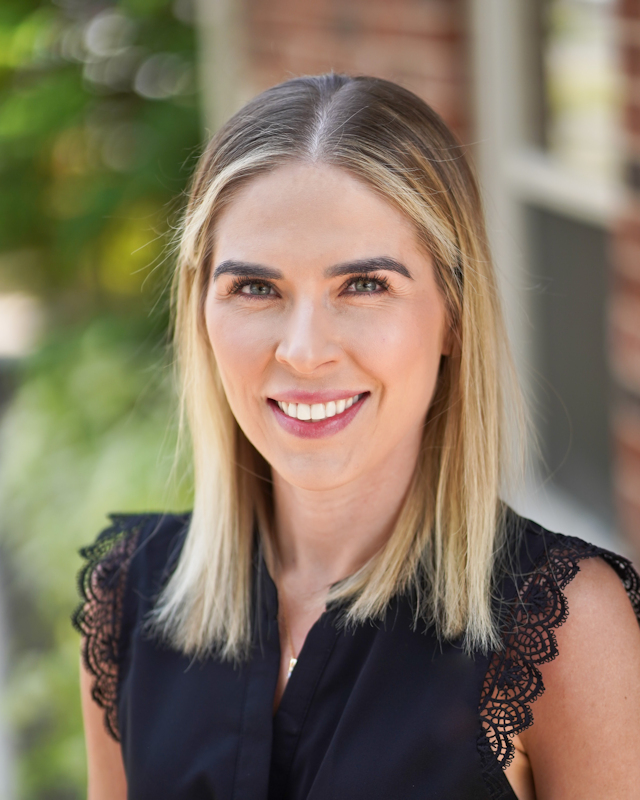 Megan
Office Manager/ Finance/ Marketing Coordinator
Megan joined the ABO family in 2019 bringing with her over 10 years of dental office management experience. She has been married to her husband, Tommy since 2008. They have boy/girl twins named Teegan and Tenley and a pit boxer Roxie, that keep them very busy. In her spare time, she enjoys her morning workouts and spending time at the Lake with family.
Brittany
Treatment Coordinator / Orthodontic Technician
Brittany has enjoyed working for Dr. Becker for many years but took a brief hiatus to have 4 beautiful children: Ethan, Eli, Evan and Elaina. As treatment coordinator, she enjoys educating patients and their families on all of the benefits of an improved smile and being able to see that work through when she is in the clinic.
Melissa
Business Coordinator
Melissa joined the ABO team in January of 2022. She is a boy mama to two awesome guys who keep her very busy. She loves sports and quality time with her family.
Jessica
Huntington Business Coordinator/ Social Media Specialist
Jessica has been a part of the ABO family since 2021. You will see Jessica mostly in our Huntington location. She is married to Tyler and they have two sons, Nolan and Brody. Their family also has two dogs Rusty, a Boxer and Walter, a Corgi. She enjoys watching all sports, especially baseball, and playing golf with her husband.
Lexi
Insurance Specialist
Lexi has been with ABO since 2022. She is married to Brandon and has 3 young kids, Finn, Penelope, and Marceline. In her free time she enjoys spending time with her family and cooking.
Stephanie
Orthodontic Assistant
Stephanie has worked at ABO since 1997. She is married to Andy and has three children: Olivia (Savanah), Sebastian (Brook), and Aleah. She is also a happy grandmother to two beautiful grandchildren, Ryleigh and River! She also enjoys coaching girls High School gymnastics at Huntington North High School, hanging out with family and friends, and trail riding.
Heather
Orthodontic Assistant
Heather has worked at ABO since 2013. She is married to her high school sweetheart Jesse. They have two sons, Braxten and Brady and a German Shepherd named Nash. She enjoys watching her boys play their many sports and spending time with family and friends.
Brissa
Orthodontic Assistant
Brissa was excited to join the orthodontic world in 2018 and loves her job and being part of the ABO team. She has two children and they all love to be outside, go for walks and enjoy the beauty of nature. In her spare time she is an amazing baker and makes custom cupcakes and dessert treats that are super yummy.
Angie
Orthodontic Assistant
Angie joined the ABO team in 2022 bringing over 20 years of dental knowledge with her. She loves to make her patients feel comfortable and confident through her positive attitude and thorough explanations during their appointments. She has been married to Steve since 1995 and they share two children, William and Finn.
Grace
Orthodontic Assistant
Grace has worked in the dental field since 2011 and joined ABO in 2022. She is married to Trevor. They have 2 kids, Rhett and Charlee, and one fur baby Trigger. In her free time she loves to spend time with her family, being outdoors kayaking and camping or you can find her inside crafting.
Mariah
Orthodontic Assistant
Mariah has been with the ABO team since 2019. She loves to get to know the patients and watch them grow throughout their time in treatment! She's married to Spencer, together they have two adorable children, Emma and Brooks. They enjoy doing outdoor activities and staying active.
Tiffany
Sterilization Technician
Tiffany has been with our office since 2021. Tiffany helps keep our office running smoothly on a daily basis. She and her husband Rod are lifelong residents of Huntington County. Her greatest joy and achievements are her three boys Mason, Chase, and Parker. She loves spending time with family and friends.
Eileen
Orthodontic Assistant
Eileen Nicola is a 2010 graduate from Indiana Dental Laboratory. She has experience in dental assisting, as well as radiography. As a former patient of this practice, the knowledgeable and friendly atmosphere was a natural fit for her. She has a heart for people and gives patients the knowledge and care they need to smile brighter. She lives in Huntington with her husband, Scott and 4 sons. She enjoys camping, boating, and vacationing with her family and friends.
Cheri
Lab Technician
Cheri has worked at ABO since 2001. She is married to Andy and has three daughters, Alyse, Ava, and Adri. She enjoys watching her kids play sports and spending time with family and friends.