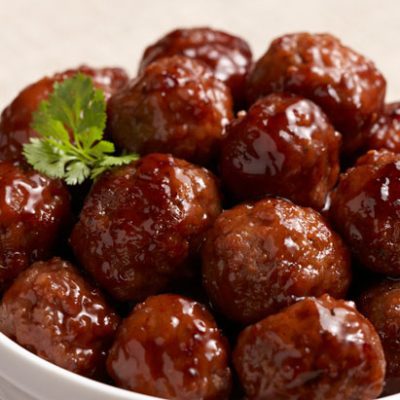 Party Meatballs
by Mason M.
Ingredients
4-5

lbs

frozen meatballs

regular (Thawed)

3

cups

brown sugar

4

cups

ketchup

1/4 to 1/2

cup

yellow onion

chopped

1/2

tsp

liquid smoke

1

tsp

garlic powder
Instructions
In a large mixing bowl, combine brown sugar, ketchup, yellow onion, liquid smoke, and garlic powder. Stir well with a spatula.

Take large baking pan and line with aluminum foil leaving enough to hang over edges. Pour meatballs into pan and take meatball sauce and pour over meatballs. Mix so they are covered as much as possible.

Take another sheet of aluminum foil and place loosely over the top. Bake on middle rack for 1 hour.

May serve when finished or great warmed in crock pot. (Be sure to spray crock pot with cooking spray for easier cleaning) Very easy to make and have had many compliments on the meatballs!