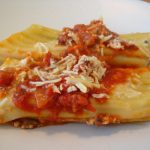 Servings
5
large servings
Servings

5

large servings
Servings

5

large servings

Servings

5

large servings
Brown and drain the sausage.

Add spaghetti sauce and 1 c. water. Mix well. Heat to boil then reduce heat to simmer; cover.

Mix ricotta, 2 c. mozzarella and parmesan cheese in a separate bowl. Add egg to cheese mixture. Add spices to cheese mixture.

Fill uncooked manicotti with cheese mixture.

Put small amount of sauce and sausage mixture in bottom of 13 x 9 " pan. Place filled manicotti in pan on top of sauce. Pour remaining sauce over manicotti. Top with remaining 1 c. mozzarella cheese.

Cover with foil and bake at 350 for 1 hour and 15 minutes.

Take of foil the last 15 minutes of cooking. Let sit 15 minutes before serving.